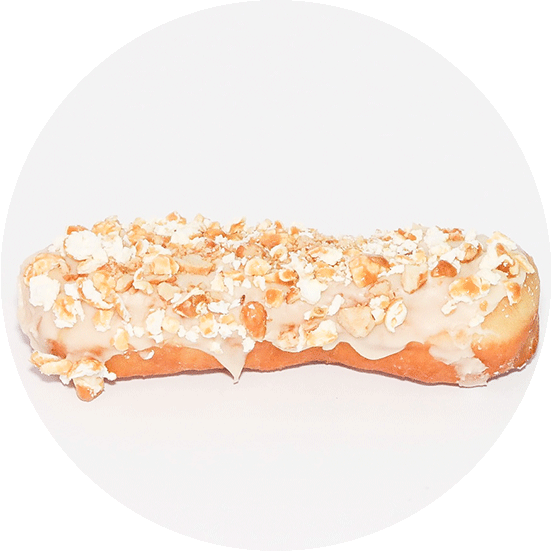 OUR FLAGSHIP DONUT!
7th Inning Stretch
Artisan peanut butter frosting donut topped with caramel popcorn & candied peanuts. A home run in every bite!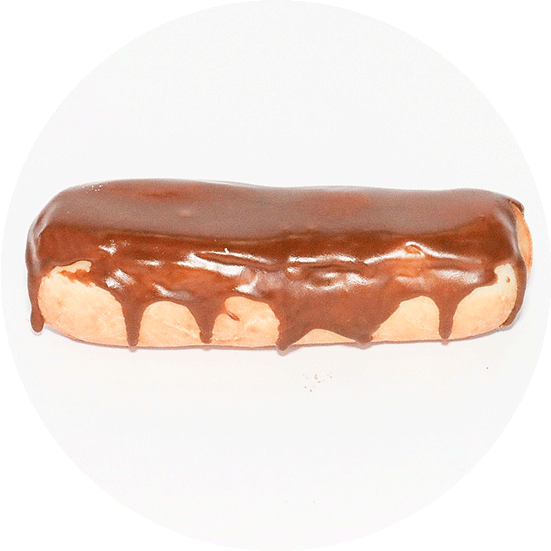 AMERICA'S BEST NEIGHBOR
Merley Maple
Custom-recipe maple frosted long john donut dedicated to Steve Merley, America's best neighbor. 
Just The Cake
Classic cake donut, perfect for dipping in your coffee.
Powdered Sugar Donut
Classic cake donut with fluffy powdered sugar.
Cinnamon Sugar Cake
Cake donut dusted with cinnamon sugar.
Classic Glazed
Keep it simple with this delicious treat.
Peanut Butter Crunch
Our signature peanut butter frosting with peanut butter Captain Crunch.
Butterfinger
A classic cake donut with caramel frosting topped with crushed Butterfingers.
Peanut Butter Bacon
Our signature peanut butter icing sprinkled with salty bacon.
Cinnamon Toast Crunch
Cinnamon donut with Cinnamon Toast Crunch sprinkled on top.
Pink Surprise
Rotating frosting surprise topped with pink sprinkles. Guess that flavor! 
Chocolate Frosted
Round raised donut with fudge chocolate frosting.
Hot! Chocolate
Chocolate cake donut with serrano & habanero chocolate.
The 4th of Julindy
Devil's food chocolate base with chocolate frosting & sprinkles.
Chocolate Lover's
Devil's food chocolate base with chocolate frosting.
Oreo Delight
A cookies n' cream frosting with oodles of Oreos.
Cookie Monster
A chocolate donut coated in Oreo icing and smothered with Chips Ahoy cookie crumbles. 
Chocolate Orange Donut
Devil's food chocolate base with orange zest glaze.
Fruity Pebbles
Chocolate cake donut with custom Fruity Pebble frosting, and sprinkled with Fruity Pebbles.
Sour Cream Old-Fashioned Glazed
An elevated old-fashioned donut.
Old-Fashioned Maple
Tastes better than a stack of pancakes!
Chocolate Sour Cream Old-Fashioned
An elevated and chocolatey old-fashioned donut.
PB&J
Jelly filled donut with artisan peanut butter frosting.
The King
Banana cream filling with peanut butter icing and chocolate chunks.
Bavarian Cream Chocolate Frosting
Fudge frosting coated donut filled with Bavarian Cream.
Powdered Sugar with Berry Filling
Fluffy powdered donut filled with beautiful berries.
Liberty Lemon
Glazed donut with liberty lemon filling.
Blueberry Lemon
Liberty Lemon Donut filled with blueberry lemon pudding. 
Daily Fritter
A delicious fritter with fillings on a rotating basis.
Maple-Pecan
Merley maple with candied maples sprinkled atop.
Maple Bacon
A Merley Maple donut generously topped with bacon.
Chocolate Bar
A fluffy base with delicious chocolate frosting.
Cinnamon Sugar Twist
Cinnamon sugar with a twist.
Southern Apple Braid
A classic braid with caramelized apple and cinnamon frosting. 
Cinnamon Roll
A cinnamon roll with classic icing.